Folk on the Rocks site accessibility improvements help make the music festival more inclusive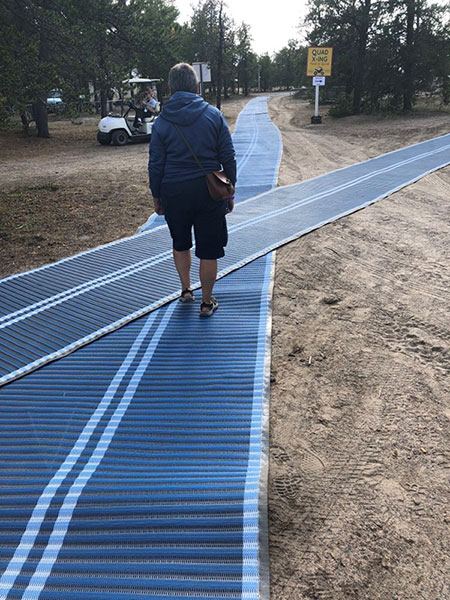 For over 40 years, Folk on the Rocks has showcased Northern, Arctic, and international musicians for the enjoyment of northerners and visitors. Over that time, the Yellowknife-based annual festival has become one of the Northwest Territories' (NWT) premier music and cultural events.
The annual Folk on the Rocks offers more than 35 hours of musical programming on multiple stages over a mid-July weekend. The festival attracts people of all ages with a children's area, beer garden, main stage, food fair, and an artisan area.
The festival takes place at a permanent space located on the sandy shores of Long Lake located approximately six kilometres from downtown Yellowknife. The setting includes a natural amphitheatre for the main stage. Public spaces like this support residents, encourage tourism, promote local businesses, and create jobs.
CanNor's investment helped increase site accessibility at this Yellowknife community event space. The funding helped Folk on the Rocks purchase mobility mats for use on site to create pathways across the sandy festival grounds from the front gate to the main areas.
The mobility mats lead to all stages, wheelchair-friendly restrooms, the merchandise booth, and food vendors. These paths are usable by pedestrians, wheelchair/mobility scooter users and people with strollers. The mats helps improve accessibility at the festival site so people of all abilities can enjoy the festival.
Carly McFadden, the Executive Director Folk on the Rocks says, "Folk on the Rocks is extremely grateful for the opportunity provided by CanNor's funding and we look forward to making our site more accessible for this year and many years to come."
The use of mobility mats is just one part of Folk on the Rocks' commitment to improving accessibility at the festival, removing barriers to entry, and expanding their audience. The mats are also available to other community groups making use of the folk festival site for their own accessible events. The site can be rented from the City of Yellowknife.
CanNor has also contributed previous funding for Folk on the Rocks projects including the rebuild of the festival's main stage platform and roof.
Folk on the Rocks' mission is to "foster a sense of community and pride in the NWT by delivering an inclusive and accessible one-of-a-kind cultural and artistic event that reflects the diversity and spirit of the north".
Thank you for your feedback