Regional economic growth through innovation (REGI)
Canada's regional development agencies (RDA) are one of the ways that the government delivers on its Innovation and Skills Plan in the regions. RDAs across Canada deliver two common streams of programming to fuel economic growth through innovation and create more well-paying jobs for Canadians. These streams, along with tailored programming in each region, will foster the right environment to start and grow businesses and create the conditions for the development of strong, dynamic and inclusive regional innovation ecosystems across the country.
Are you an ambitious Northern company in need of growth funding?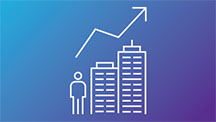 Business scale-up and productivity
Funding offered under this stream helps businesses to accelerate their growth and assists with the adoption of innovative technologies that support scale-up, productivity and global competitiveness as well as the development of and entry into new markets.
Are you a Northern not-for-profit organization looking for funding to increase the innovation capacity of the region?
Regional innovation ecosystems
Funding offered under this stream helps create, grow and develop strong and inclusive regional networks that support business growth and innovation. It also fosters the entrepreneurial environment necessary for more innovative regional economies and increases the competitiveness of small and medium-sized enterprises (SME), women entrepreneurs and under-represented groups.
Thank you for your feedback